During this pandemic, I have been reflecting about myself, a cuckoldress, being non-monogamous to james and how fortunate I am to be where I am today. Make of it as you will…BUT for me and james…our absolute love and honesty with one another is the engine that drives our cuckolding dynamic…it's life affirming.
And I am grateful for the many personal connections and friendships that I've made in my journey as a queen of spades and black only slut…the sexual side of the social butterfly that james lovingly reminds me that I am. As I endure this pause with covid the thoughts about our dynamic that are exciting, fun and loving are always present…though admittedly the memories of being blacked running through my mind are more so and what I have been masturbating to…
That being said, if you didn't know by now, hotels literally fucking turn me on. And why not? I feel so much sluttier when away from home. Not knowing what was about to happen, one of my last trysts that I had was just two weeks before the lockdown and I made it an absolute slutty 16 hours at a favorite nearby hotel. I love taking advantage of any hotel hotel room, and being the social butterfly, I planned for fuckings by two different endowed black men. I was hoping to have them together but with different available times I made the easy decision to extend my time being blacked by enjoying them separately. One Sunday evening, and the other the following morning.
After checking in Sunday, while I was dressing sexy for going to the bar, james set the room for the night and laid out on the bed what I would be wearing later for my fucking. When I was ready, we headed downstairs to enjoy a cocktail while waiting to greet C, my new bull for the night. Ordinarily when I meet up with bulls, hotel or not, james is rarely present…but this time was different. I wanted him to get a sense first hand of what I'd been describing to him in detail ever since my first meeting with C just a few weeks before and the selfies we took from the backseat of the car…leaving no doubt C's raised blackness passed my size "test".
"Meeting other men to fuck is always a liberating emotional time for me because I know I will begin to forget about james and focus on what will be happening…"
C arrived promptly at the agreed time…handsome and impeccably dressed with a friendly smile, and twinkle in his eyes, but it was the length of the bulge in his pants when he sat down that I really remember…I also don't remember much of the conversation that followed because my only thought was that I wanted my hands on his blackness…and so much more.
james, sitting across from me and C, was reserved, respectful and later admitted in awe…he too saw what I saw…and knew I was getting very wet by the way I squirmed in my seat and the brief shyness that overtook me. He also knew at that moment I was about to forget him as my hot and sexy evening began to unfold. He knows me all to well…because I did forget him.
Wanting C and james to get better acquainted over a cocktail without me there…I couldn't excuse myself to my room soon enough to change into james' selection for the night…provocatively displaying fully my statuesque figure over a favorite sexy bodystocking, with heals…and open to expose my Black only private area for fucking.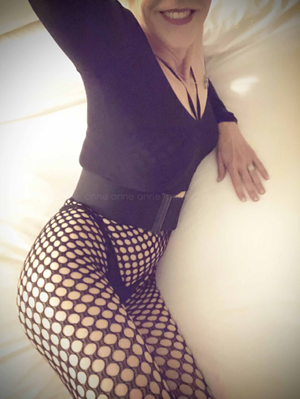 Approaching the room alone, I was totally aroused with 'butterflies', the excitement of the moment, and my wetness. Entering the room, it intensified with the sexy atmosphere that james created before going to the bar…the lighting was dimmed, the iPad positioned just right, and my favorite playlist reserved for my trysts was playing. Not wanting C to have to wait too long I changed quickly and sent a text asking james to direct C to our room. To help me relax before he arrived I took selfies for james as I primped in front of the iPad in video mode. With C on his way up to the room, james was now alone to nurse his beverage in the practically deserted hotel bar…by that time it was just he and the curious bartender. james texted that he was happy and excited to see my selfies, yet knowing him so well, no doubt in Cuckold angst…and feeling the familiar tightening grip of the cage on "my" penis.
When I heard the tap on the door, in high heals, I tried casually to welcome C into my room. Admittedly I couldn't wait to undress him and soon enough, sitting on the edge of the bed with him standing before me, I finally took his very long and thick cock into my hands and making it hard in my mouth. Following his lead, it wasn't long before I was laying on the bed feeling his soft lips on my mouth and my neck..a truly erogenous zone of mine… and between my legs. His kissing and oral skills were intoxicating…I had never in my life been so close to a complete orgasm through oral sex and in that moment it became real that james had slipped from my mind and any thought for him was long gone.
The foreplay was hot and passionate and I was seriously needing to feel C push and drive his hard immense cock into my very wet pussy…but he threw in a twist. He wanted james to come up to the room to witness his impressive black cock…poised over me with his cock teasingly touching between my raised and open legs…and then having james push firmly on his naked ass to help drive his cock fully inside of me. What I loved was that C fully embraced our cuckold dynamic and without any cue from me invited james to share first hand why his wife chose to be fucked by endowed black men. Initially james was surprised to get my text message asking him to come up to the room…it's rare that it happens. james later shared with me that when he saw us together laying on the bed he was in awe of C's body and without a doubt intimidated and stunned at the request. But a willing participant, he did as asked and then with the breathtaking pleasure of C now deep in me I sent him home with instructions to return the next morning when summoned to drive me home.
After hours of very intense fucking and great conversation between times, C finally had to leave…for him the next day was a work day, but knowing what the morning would bring, I had "given" myself the day off. After he left I was so energized…and though I had this wonderful night in my hotel room, I couldn't sleep so I began texting with james about the incredible sex I had and what he got to experience. But he also had an early morning so after awhile he said good night…we both knew the conversation would continue with intensity when I finally arrived home.
With a restless night, the morning couldn't come soon enough. Being an early riser, I sent james a good morning text and decided to do a quick workout in the hotel gym and grab a coffee and people watch in the cafe. Since my pussy was still swollen from the night before, I wondered if my cameltoe was obvious to the sexy waiter circling my table…it certainly was to me…for whatever reason this particular AC Marriott has incredibly cute staff. Having enjoyed my coffee and the people scene, it was time to get ready for my bedroom romp with A who would be arriving soon. Those that have been following my journey know A. He often tries to schedule his client meetings near my home so daytime fuckings are nothing new for us but this time coming to my hotel at 9 am was definitely just as much of a sexy hook-up for him as it was for me.
Because I know A so well, and knew we would be short on time, I decided to keep my dress simple…sexy booty leggings and a soft revealing sweater. But I also knew A would then strip me down to my heels and I would let him fuck me as he wished. I kept the room atmosphere sexy with the blinds half open to bring in some soft natural light and had a classic jazz station playing. The bed was unmade and still lingered with the scent of sex from the night before as I took a few selfies to send to james before A arrived.
Going downstairs and meeting A in the lobby was brief…he was walking in as I got off the elevator so there was really no time for butterflies to surface. As A approached and greeted me with a kiss and with bravado took my hand leading me to the elevator, I made eye contact with the cute waiter. In the elevator I glanced over at his crotch and visible bulge while he leaned casually against the back wall but we weren't alone and my mind could only imagine the foreplay that could happen at that moment.
A, handsome and athletic, still sweeps me off my feet every time I'm with him. He took control of the situation the moment the door closed. Kissing and with me teasing his swollen Blackness, he swiftly undressed and immediately had me kneeling on the bed with my head down as he slid my leggings down with my ass raised in the air witnessing firsthand my already swollen pussy and erect clit while his fingers also felt the extent of my wetness. Knowing what I had the night before had made him super aggressive and I fucking loved it. He wanted to hear every detail of how I was fucked by this other man and the things this man asked me to do for him that was unique to him. It didn't take long for us both to cum making a mess on the sheets and "painting" my tits…and then it was over. We kissed and talked for a bit but A's time was running out. As he was about to shower I mentioned sending james a text to pick me up but A was quick to say that he would like to deliver me to my husband. Insistent in his request I let james know that I'd be home soon. That was an absolute first for me to be driven home by my bull…it was intoxicating in its own way knowing my pussy was still leaking my wetness from the hot sex we just had.
When A dropped me off I couldn't wait to share every detail of the morning with james but his work and us going to the gym left little time for it then…it would have to wait until later in the evening. Though as it would be, one of my favorite things to do after I have an intense daytime fuck is to go to the gym…there is something so sexy about doing a leg press and I can feel my sexed wetness saturate my crotch as I engage my core and push up the heavy plates. I always wear leggings that do the best job of showing my cameltoe for these workouts and the sensation of the wetness and the fabric seam rubbing on my still aroused clit is pretty fucking intense.
Later that evening together we watched the videos and looked at photographs as I described in detail the fantastic experiences that I had…having multiple black men fucking me and james again knowing and feeling what my empowerment over him does to him. It has become a sensuous power that I enjoy exercising…my gift to him, angst with sometimes pleasure. Afterwards talking with james, that I didn't have to travel far this time to have an unforgettable fucking scene was liberating…it truly gave me a sense of victory if you will…a sense of possibilities that I can enjoy and get what I need and want locally…just call me a slut please.
I do know that though I crave Blackness and take every opportunity to be ravaged by my favorite black men…I always come home to james, my cuckold husband in chaste, with unwavering love for him…it's visceral. It is almost an emotional masochism that james craves…and he loves it because he knows that love I have for him…and the power that I have over him…that I choose him…and I will always come home to him…and he will always be there for me. This emotional masochism that he displays is such a turn on to me. Whether it's from me describing being fucked better than him by black men, him knowing this to be true listening to an audio recording with his headphones, or watching a video that I may have captured during my trysts…I see the paradox of pleasure in his body language and facial expressions. It triggers my inner slut for more…and makes me without a doubt knowing who I am say "why would I stop cuckolding james?"
I own james's sexuality…I own my own…I control my kingdom…believe it…truth.